There have never been as many of us working from home as there are right now. A 2020 analysis by researchers at Outdoorsy found that the Washington DC area has the second most remote-friendly jobs of any metro area in the country. While this suggests that many people in the region are spending less time sitting in rush-hour traffic, it also means that our homes are now being asked to play a role they were never designed to perform. As your lifestyle evolves, your home must adapt.
Capital Dwelling has developed a backyard office, specifically designed for neighborhoods in the Bethesda MD area. Our detached turnkey units are built from components that are precisely engineered and constructed to the highest standards in a controlled factory environment. You select the combination of components and finishes you want for your personalized backyard office and they are delivered to the site and installed by our team of professionals. Our approach limits the amount of disruption in your backyard and provides you with a custom home office that fits within your budget.
Read on to find out more about the advantages of a backyard office in Bethesda from Capital Dwelling.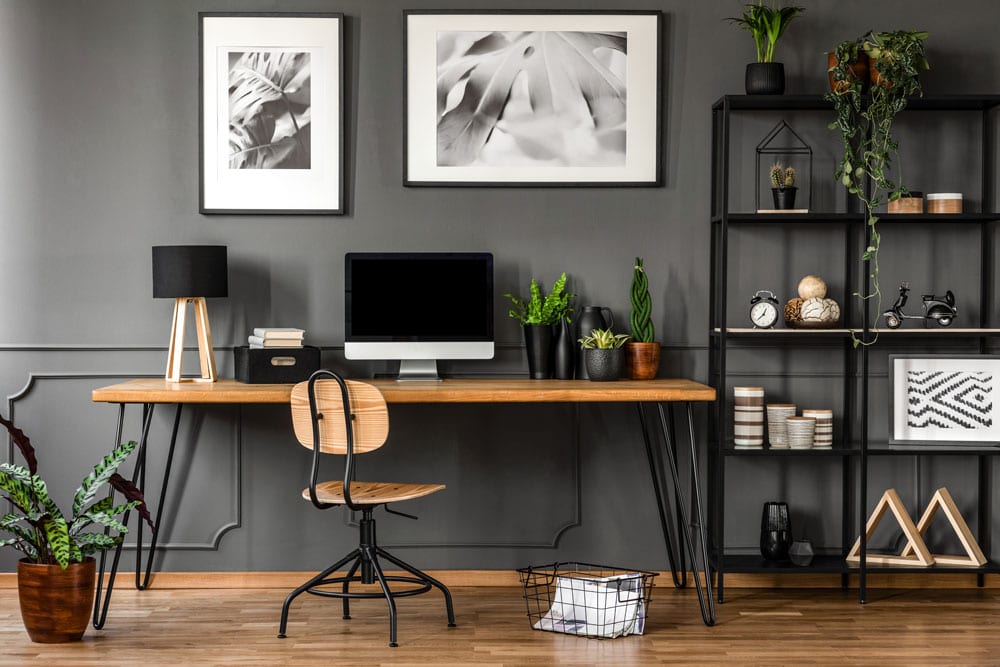 Backyard vs. In-home
When work abruptly shifted from the office to the home in 2020, most people in the Washington DC area including Northern VA and Montgomery County MD, adjusted by repurposing parts of their house to create an impromptu office space. This may have been acceptable as a temporary solution, however, over time, life began to get in the way.
Instead of a quiet sanctuary, many people were left with a multi-purpose space that supported several different functions, but none of them particularly well. The in-home office space that worked as a quick fix in 2020, is becoming overwhelmed, especially in houses where multiple people are working remotely.
As work from home becomes part of the new normal, many people in the area are searching for a more permanent solution. The detached backyard office from Capital Dwelling is the answer.
Privacy
A backyard office in Bethesda offers the level of privacy you need to create a productive work environment at home. Capital Dwelling can deliver a customized, detached backyard office that provides a quiet workspace for up to two people, steps away from your life at home.
These units are separated from the primary residence and therefore they are free from the distractions that typically pop-up in the home. No more interruptions during the important call or dog barking at the worst possible time. A backyard office from Capital Dwelling allows you to stay connected to your home life and still get things done at work.
Make the space your own
Capital Dwelling's backyard office is highly customizable. This means you can personalize the exterior to match your existing home or take your style in a different direction and create the look you have always wanted. You can select the color, material, and orientation of the exterior cladding, as well as the style of roof that sits atop your backyard office.
On the inside, you have the same level of flexibility to make the space your own. All backyard office interiors are complete with the latest in communications infrastructure and connectivity. The spaces are illuminated by flush in-ceiling LED lighting that produces the perfect complement to the ample natural light that floods each backyard office.
Perhaps most importantly, Capital Dwelling's backyard office allows you to create an environment that looks like a professional workplace. When you have a video conference in one of these units, you no longer need to worry about who or what is going to show up in your background. The style of your backyard home office does not have to be dictated by the look and feel of your primary residence. Because these are detached structures, they are independent from your living space and they can take on the pure form of what they were designed to do, providing a professional office space close to home.
A Place to Meet
Business will never be entirely virtual. As long as there is a need to meet in-person, people will need uninterrupted places where they can connect. The backyard office in Bethesda provides the perfect sanctuary where people can get together and conduct business in private. You no longer have to battle for an awkward meeting place in a loud coffee shop or pay huge fees to use an inconvenient co-working space.
A backyard home office is especially ideal for small business owners, who may need to be close to home, but still want a private dedicated space when they need to get work done. Meeting colleagues in your backyard office is a lot more professional and a lot less awkward then inviting them into your home.
Undisturbed Space
One of the best features about Capital Dwelling's backyard office in MD is the ability to secure the space when you are not using it. In a business environment, where things can be hectic and potentially disorganized, it is vital to be able to find things where you left them. With a detached backyard office, you can secure the space when you leave and come back to find everything just as you left it.
An in-home office is constantly at risk of being disturbed. Someone could borrow something off your desk, clean up your area to the point that you cannot find something, or accidently throw out something meaningful. When your office is in your home it is not secure. Only a detached backyard office can provide that type of independence and protection.
Direction of the Future
No one knows what the future holds for the Washington DC area workers, but you can pick up on prevailing trends from time to time. One change that appears to be sticking around is that more people will be working from home than ever before. Employees have embraced the convenience and flexibility of working from home and managers recognize the benefits to morale as well as the financial incentive of carrying less commercial office space.
As this shift occurs, people must be prepared to adapt their homes and their lifestyles to accommodate the change. A backyard office in Bethesda is an important addition for all the reasons we listed above. It also tells your employer that you are serious about working from home and you will be conducting your workday in a dedicated, professional environment that is free from distractions. With that type of workspace, it may even give you the ability to work from home more often.