Backyard Homes DC
The accessory dwelling unit (ADU) has been part of the physical landscape in Washington DC region for generations. From alley dwellings on downtown streets to suburban garage apartments, ADUs have been a source of affordable housing to many area residents over the years. With the region once again experiencing a housing crisis, the accessory dwelling unit is being rediscovered as an affordable option for backyard housing in DC.
In response to demands for more housing options, area leaders are updating local zoning codes to make it easier to construct more ADUs. Unfortunately, each jurisdiction is taking its own approach to the regulations governing accessory dwelling units and, depending on where you live, the rules you need to follow may be very different than the people who live down the street or across the river. To help navigate this regulatory roadmap and answer some of the lingering questions about ADUs, we have put together the following section with answers to the most common questions from Washington DC accessory dwelling unit experts.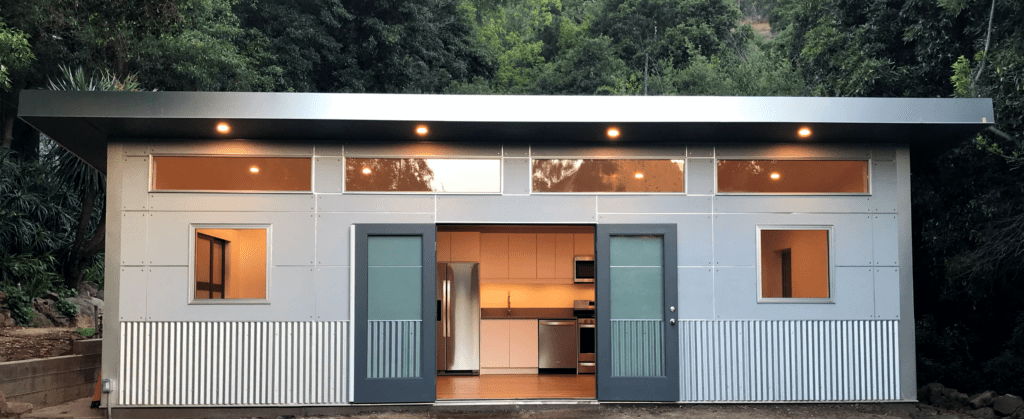 What is an Accessory Dwelling Unit (ADU)?
Let's start with the most basic question. An accessory dwelling unit is commonly defined as an additional living area, independent of the primary residence, that contains a kitchen, a bathroom and a separate entrance. While we will refer to them as accessory dwelling units throughout this text, this type of structure goes by many different names around the country. In-law apartment, guest house, carriage house, casita and backyard homes in DC are all popular names. To give you an idea of how many alternative labels exist for the accessory dwelling unit, Freddie Mac recently completed a study of ADUs and one of the biggest challenges they faced was identifying all of the relevant names for the structure.
Is an ADU the same as a tiny home?
The tiny house of HGTV fame has sparked a micro-space movement among its dedicated followers. While ADUs and tiny backyard homes both share a small overall footprint, there are several fundamental differences between the two structures.
Tiny homes are intended to be mobile (think of them as a slightly less mobile version of the traditional recreational vehicle). Most are equipped with a set of wheels and are pulled from place to place by truck. They plug into existing utilities hookups and are not permitted as fixed structures in most jurisdictions in the DC area. Accessory dwelling units, by comparison, are installed on a permanent foundation and access to utilities is typically extended from the primary residence. ADUs represent true backyard housing.
How much does an accessory dwelling unit cost?
As you might imagine, the cost to build an accessory dwelling unit in DC can vary dramatically. High-end additions that are custom designed by an architect and constructed by some backyard homebuilders in DC can easily require a budget of more than $300,000 and take over a year to complete. Our firm believes that the fundamental purpose of an ADU is as an affordable housing option and, therefore, we take steps to reduce the cost of construction, while still providing a superior product to our clients. Using modular construction techniques, we can deliver a unit that is built in a controlled environment, with rigorous quality control, at a typical project cost that is almost half of what other firms charge.
How do you finance accessory dwelling units?
Even at the low end of the price range, building a backyard home in DC represents a significant cost. Fortunately, in today's low interest rate environment, there are several financing options available to homeowners that can make accessory dwelling units more affordable than in past years.
The most common way to finance an ADU is to tap into equity the homeowner has built up in their primary residence. This can be accomplished through a cash-out refinancing, a home equity loan or a home equity line of credit (HELOC). Refinancing or taking out a home equity loan often carry the benefit of a fixed interest rate, while a HELOC typically offers a lower starting rate that could float up over time.
Many owners of backyard homes in DC will use one of these methods to raise funds to build their accessory dwelling unit and once it's complete they will rent it out to generate additional income. This new income stream is often more than enough to cover the borrowing costs associated with construction. Learn how Capital Dwelling can help you with these services.
Does adding an ADU increase property value?
When you add an accessory dwelling unit to your home in the DC area you are expanding the living area and increasing the number of bedrooms and bathrooms on your property. This will have a positive impact on your property value.
As with many home improvement projects, the increase in property value will depend on the scope and quality of the work. Backyard homebuilders in DC that specialize in ADU construction can often deliver a product that will result in greater home appreciation. Homeowners who remain in their properties well after an ADU is constructed will also see a larger benefit, as they are able collect rental income from the property in addition to the increase in property value.
Can I build an ADU in my front yard?
Accessory dwelling units are called backyard homes for a reason. Apart from an existing garage conversion, there are not many types of ADUs that are permitted in the front yard of DC area homes. Often the entrance to an accessory structure cannot even be on the same side of the unit as the entrance to the primary residence.
There is a reason for these requirements. While ADUs provide much needed housing in areas dominated by single family zoning, communities still want to maintain what they describe as the "character of their neighborhoods". They do this by regulating where homeowners can place a permeant structures on their property. Most accessory dwelling units in DC are limited to the backyard, with required setbacks from neighboring properties and restrictions on height and the size of the overall footprint. You will want to consult a backyard housing company in DC for the specific regulations in your area.
Can I rent out an ADU?
Most backyard housing in the DC area can be rented, however you will need to obtain the required permits from your local jurisdiction and there may be restrictions on how many people can occupy the unit. Local governments will often require homeowners to obtain a business license and agree to on-site inspections of the property before they will allow you to rent it out. Most areas around DC also limit the number of people who can live in an accessory dwelling unit, usually with a maximum of 2 to 3 adults. Additionally, local municipalities currently require that the homeowner occupy either the primary residence or the accessory unit, so that both structures cannot be used as rental properties at the same time.
That said, once these requirements are met, owners of backyard housing in DC stand to make a significant amount of income from their investments. Here are some more common questions you might have about Backyard homes DC
Can you Airbnb an ADU or use it as a short-term rental?
While traditional long-term rentals of backyard homes in DC are widely accepted, short-term rentals or Airbnb style arrangements are far more controversial. Several local municipalities have also changed their approach to short-term rentals in recent years, making it difficult for homeowners to depend on a predictable stream of income from these types of tenants.
Counting on income from short-term rentals to justify building an accessory dwelling unit in DC is a risky move. A better approach would be to base your assumptions on rental income from traditional, long-term tenants and treat any short-term rental income as an unexpected upside on your investment. If you are going to build a ADU primarily as a rental unit, make sure you are working with a backyard housing company in DC that is familiar with the process in your local jurisdiction.
Is building an ADU worth it?
There are several factors a homeowner must consider when answering this question. Even though building an accessory dwelling unit in DC is permitted and you have enough equity in your primary residence to afford the addition, is this something you are ready to take on?
One of the first things you may want to consider is how are your going to use the space. Do you need extra room because you are spending more time around the house? Do you need the space for a close relative who is coming to live with you? Are you looking into backyard homes in DC as a source of passive income? All of these are viable uses for an accessory dwelling unit in DC and all come with different considerations.
If you have already settled on the fact that you need more space at home for your own personal use and you are comfortable with the costs than an ADU is likely worth it for you. If your primary motivation is generating rental income, you should research the local requirements in your area and read more about the what's involved in becoming a landlord before you make the commitment (here are a couple of recent articles from the WBJ and Motley Fool to get you started).
When you make the decision to move forward, you will want to partner with backyard homebuilders in DC that specialize in this type of project. Although building an accessory dwelling unit in DC is legal, there are still many hurdles you will need to overcome to get the project completed. Hiring Washington DC accessory dwelling unit experts gives you the best chance at a successful outcome!